Edited by Euan McArthur & Arthur Watson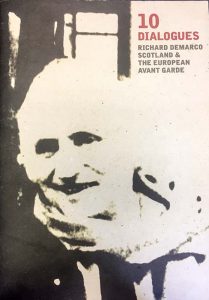 10 Dialogues: Richard Demarco, Scotland and the European Avant Garde celebrates the achievements of, Richard Demarco, and the work of ten outstanding artists with whom he has been closely associated. It is a story of a vision that connected artists across cultural and political divides, and which continues vigorously to this day. From his early years at Edinburgh College of Art to the present, his landscapes and cityscapes have reflected Scotland and his wider world in Europe and America. Artists featured are: David Mach, Paul Neagu, Rory McEwan, Joseph Beuys, Gunther Uecker, Alastair MacLennan, Marina Abramovic, Ainslie Yule, Taduesz Kantor & Magdalena Abakanowicz.
Contributions by Jon Blackwood, Wieslaw Borowski, Richard Demarco, Mary Jane Jacob, Margaret Garlake, Adam Lockhart, Euan McArthur, Alastair MacLennan, John McEwen, Stephen Partridge, Stephen Robb, Matei Stircea-Cracuin, Arthur Watson.
Publisher: Royal Scottish Academy 
ISBN: 9780 86196 721 6